Running a profitable blog is a dream job for many of us. Starting a blog is one of the best decisions I've made and for many reasons. Blogging has given me the opportunity to connect with people, develop my writing skills, share my passions, and earn passive income. Whether you're looking to get a side income, build a brand or live from your passion, blogging can be a great option. Do you want to start a blog that actually makes money? Read on and find out how to start a profitable blog in 10 easy steps.
Note: Affiliate links may be used in this post. I may receive a small commission at no extra cost to you if you make a purchase through my affiliate link. Read my full disclosure policy here.
1. Define your niche
First things first, you'll have to find a niche for your blog. What is a niche? Well, a niche is a topic you want to blog about, and the people you're trying to reach. For example, my niche is traveling sustainably on a budget which means I'm targeting budget travelers willing to travel in a sustainable way without breaking the bank. 
Finding your niche is very important. Even though blogs who have many different topics do well, the more niche your blog is the more successful it might become. For example, a blog about a specific city will do better than a budget travel blog. There are thousands of budget travel blogs already, but how many blogs about your city are there? 
Because there are SO MANY blogs out there, you need to find a topic you can add value to. What can you do well? What do you know that could benefit others? The most important is to blog about something you are an expert on or something you are passionate about. 
Most bloggers start without really knowing what to blog about and what their niche is. You might even change your niche on your blogging journey, and that's ok. But the earlier you find your niche, the faster you'll build your audience and start making money.
2. Find a blog name
Finding a blog name that fits your topic and blog is primordial. Not only because your name represents your brand, but also because it's how people will remember you. Choose a name that's related to the topic you're going to blog about. Take your time to find the perfect blog name, brainstorm ideas. 
If the blog name you want is already taken, keep brainstorming. You'll find the perfect fit for your blog eventually. Talk to people and ask for their opinion. When I first started my blog, it took me forever to find out how I wanted to call it, so don't worry. You can also use Lean Domain Search to help you find the perfect name for your blog.
Best tips to choose a blog name:
Use words that are in the dictionary. If you use words that don't exist, it'll be very hard for people to remember your blog name. And that's not what you want!

Don't use too many words. One or two words max are the best. When it's too long it gets too complicated.

Keep it simple and memorable
3. Select a blogging platform
There are many blogging platforms to choose from. As a beginner, you're looking for a blogging platform that is easy to use and lets you control all the features of your website. If you're serious about your blog and want to make money from it, don't be afraid to invest some money in your blog. Free blogging platforms like Blogger or Wix are good if you're just starting out and are a hobby blogger.
The most popular blogging platform is WordPress, and it's the one I personally use and recommend. You can choose between WordPress.com and WordPress.org.  The main difference is that WordPress.org has a cost and you can pick a custom domain name (yoursite.com). 
If you use a free blogging platform, you'll have the company's name in your URL (for example, yoursite.wordpress.com). This doesn't look professional, and I definitely recommend choosing a self-hosted solution for your blog. 
Here are the main differences between the two WordPress:
I'm using Worpdress.org, self-hosted on Siteground. If you intend to make money with your blog, WordPresss.org is the most sustainable solution in the long term.
4. Domain name and hosting provider
Next step is to choose your domain name and your hosting provider. Your hosting provider will usually also provide your domain name, so don't worry it's nothing complicated.
The domain name is the URL for your website, for instance, my domain name is craftyexplorer.com. Your hosting provider is the company that puts your website online and is basically the place where your blog will be saved online. 
I know many bloggers choose Bluehost as their first hosting provider because it's cheaper than others, but honestly, I've seen countless users complain about it on Facebook. I'm personally using Siteground, which is a little bit more expensive than Bluehost, but I've had absolutely no problem with it. My blog is always up and running, my server works pretty well and it comes with SG Optimizer plugin that makes your website load faster. 
With SiteGround you can easily install WordPress in one click, choose a custom domain name and their prices start at $3,95 per month. Setting up SiteGround is super easy and can be done in just a few minutes. They offer 24/7 support to answer all your questions, free HTTPS for your blog and 30 days money back. Click here to start your blog with Siteground.
5. Choose a theme and add plugins
Now that you've registered your domain, and installed WordPress, you can start designing your blog. The first step on building your blog is to choose a theme. A theme is basically the layout for your blog. Choosing a theme you like to make your blog look professional is essential. Good design helps to build trust in your brand and will be a big part of your blogging success. 
With WordPress, designing your blog and finding a theme is quite easy. WordPress offers thousands of free themes to choose from. Play around, and try different themes to see what you like and what would fit best for your blog. If you intend to run a profitable blog, I definitely recommend you buy a premium theme. Premium themes aren't expensive, they offer more design options, and you also get online support to help you build your website. A good theme is responsive, clear, simple, SEO friendly, supports main plugins, and has good ratings.
I personally bought my theme from Solopine. They have simple, elegant themes for blogs and their customer support is truly amazing. I have used it many times, and they always answer quickly and will do literally everything to help you with your theme! Other popular places to buy themes are Theme Forest And Pip Dig.
Install your first plugins
After installing your theme, you'll have to install some important plugins. Plugins add new features to your WordPress blog. For example, if you need a contact form on your blog, you'll have to add a plugin.
Every blog is different and we all use different plugins depending on what we need on our blog. But there are a few free plugins every blog should have:
Yoast SEO: Yoast SEO is one of the most popular WordPress plugins. Yoast is a powerful tool that helps you make your blog SEO friendly. It is essential to optimize your website for search engines. On the long run, search engine traffic is the most valuable traffic you will get.
Jetpack: Jetpack is a massive WordPress plugin with many features. It's a must-have on every self-hosted WordPress blog. The most valuable features of the plugin are the site statistics where you can monitor your traffic, the social sharing buttons to let visitors share your posts on social media, and the fortified security module that helps prevent brute force attack on your website. Jetpack has more than 20 features and is definitely worth installing. 
Akismet: Akismet is an anti-spam plugin. It filters spam comments on your blog so you don't end up with 100 spam comments on your blog posts. Spam comments affect your blog ranking negatively, so get Akismet at the very beginning.
BackWPup: BackWpup is a free plugin that allows you to completely backup your WordPress blog. Easy to use, you can simply schedule automatic backups and store them on Google drive. BackWpup is a  must have if you don't want to lose all your content. 
Wordfence: Your blog's security is very important. After all, you'll spend hours working on your blog, and you have to protect your work. Wordfence is a security plugin with features like blocking malicious attacks on your site, scanning for vulnerabilities and regularly monitoring your blog.
6. Create your first pages
The first pages you will create will be you about page, contact page, and home page. Don't underestimate the importance of your about page! More people than you think actually check this page, so it's primordial to make it look like you. Your about page should reflect your personality, your goals with your blog, and it should answer these questions:
Why do you blog?

For who?

How is your blog going to benefit others?

 
Remember, when you blog, you do it for others and not for yourself. Your blog should add value to the community. Think about that when you write your about page. Create a contact page, to make it easy for people to send you e-mails and contact you in case they have questions or want to work with you. I receive emails daily through my contact form, and it's a great way to build your audience and connect with it.
7. Start creating content
Ideally, you should have at least 10 blog posts before your blog goes live. I know many people launch their blog before having that many posts, but I think it's best to have content on your site before you share it with others. Simply because if you only have one or 2 blog posts, users can't really browse your blog, and will just leave after reading one post. This is not what you want! You want your audience to stay on your blog, go from page to page and interact with your content.
It is sometimes hard to decide what your first blog post should be. Mine was '8 amazing things you should do in Nadi, Fiji', and strangely enough, as of today, it's one of my most popular posts! Whatever your niche is, your content should be clear, engaging, funny and/or informative. Write about something you master, and something you think will help others.
A good blog post should be at least 2,000 words because the longer your blog post is the more keywords it will contain which will help you rank higher in Google search. Have a friend read your blog posts before you publish them, having a fresh pair of eyes reading your content is always a bonus. Make sure there are no spelling mistakes, add headlines and write simple sentences.
8. Create social media channels
You'll definitely need social media to promote your blog content. You'll need to create a Twitter, Facebook, Instagram and Pinterest accounts dedicated to your blog. Focus on 1 or 2 social media channels at the beginning. Focusing on them all will be too overwhelming. For instance, I mostly use Twitter and Pinterest. I spend very little time on Facebook and literally none on Instagram. See what works best for you. Depending on your niche, some social media channels work better than others.
However, I always recommend focusing on Pinterest. Because Pinterest isn't a social media but works like a search engine, it can drive a drastic amount of traffic to your blog. I managed to grow my blog traffic by 1,640% in one month with Pinterest alone! That's exactly why you need to master Pinterest if you want to make money from your blog. If you don't know how to use Pinterest, subscribe to my free e-course and learn to master Pinterest in just 5 days. The course is only free for a limited time so hurry up!
9. Monetize your blog
Contrary to popular belief, you can monetize your blog straight from the beginning. I know some bloggers recommend to wait before you build your audience, but the thing is, if you have a post that goes viral and no money on it, you'll lose money! Don't over-monetize your blog though, you are trying to gain your audience's trust and your main focus is to give information, and share your knowledge. Not to make money. There are a few ways to monetize your blog:
Affiliate marketing: Probably the most popular way of making money online, affiliate marketing is a great way to earn money passively. Join affiliate programs and promote the products you believe in. When someone buys a product you recommend, you get a commission. It's as simple as that! The most popular affiliate programs are Share A Sale, Amazon Affiliates and Booking for travel bloggers.

Ads: I personally do not recommend putting ads on your brand new blog, but I know some bloggers do. I waited 6 months before putting ads on my blog. Unless you have a very good amount of traffic, eg 25,000 views per months, ads will only make you earn a few dollars per months. The most popular ads site for beginners is Adsense. Once you reach 25K viewers per month, you can subscribe to Mediavine, a great advertisement company. Their commission is much higher than with Adsense. 
Digital products: Write an e-book, sell presets, photos, courses or digital art. There are many ways to monetize your blog with digital products. Digital products are easy to create, distribute and don't require any staff or material. They are one of the best ways to monetize your blog.
Physical products: I personally sell jewelry on my blog. This is one of the ways I use to make money online. If you' enjoy making things, think about selling physical products. You can sell anything from clothes to gadgets, whatever floats your boat.
Services: You can also sell your services online. Whether you're a Pinterest pro, WordPress fanatic or a good virtual assistant,  the possibilities to make money online by selling your services are endless. Check out Upwork to find freelance job opportunities.
10. Promote
Promoting and marketing your blog posts are maybe the most important part of your blogging journey. Getting traffic to your blog is not as easy as it seems. We all start thinking "I'm going to write this awesome post and people will just come to my blog!". Well, no. You'll need to build your presence online before you can even dream of getting anywhere with your blog. This takes a lot of time, patience and effort so don't give up! These are the most popular ways to promote your blog and its content:
Social media: Make a pin for each post, tweet and share your content on Facebook. Social media will be your main source of traffic for the first few months as it takes time to start ranking on Google. Don't underestimate the power of social media! Post at times when your audience is online, and post several times a day (without being spammy of course), interact with the community and promote other people's content too.
Google: Do your research about SEO and keywords. Ranking in Google is what you're aiming for. Google traffic, also called organic traffic, will be your best source of traffic in the long run. 
Guest post: Another great way to get your name out there is to guest post on other blogger's blogs. Did you write a nice piece you don't want to publish on your blog? Propose it to another blogger, and get your name out there. Getting links to your blog from other blogs also helps you rank higher in Google as it simply tells the search engine that your blog contains relevant content.
E-mail list: Start building your e-mail list from the very start. Your subscribers joined your e-mail list because they are interested in what you have to offer. Therefore, they are more likely to convert into paying customers.
Bonus: Invest in a blogging course and read
I know most blogging courses out there are pricey, but if you really want to succeed in this journey I definitely recommend buying a blogging course. You're probably thinking you can find all the info out there for free, but let me tell you one thing, you won't. It takes months, even years of trials and errors to figure out what works and what doesn't. Buying a course will save you TONS of time, trust me. 
At first, I wanted to do it all by myself but when I realized the time it takes I decided to buy the Superstar Blogging course. This course was designed by Nomadic Matt, probably the most famous travel blogger out there. It's excellent for people who are willing to start a blog or have started a blog but are unsure what to do to monetize it and turn it into a real business. If you have no knowledge or very little about blogging, the Superstar Blogging course will definitely help you.
From building your blog to monetizing and writing, this course covers every blogging topic you can think of. It's designed for travel bloggers, but can be used for any niche really. When I took this course, I also took my blog to the next level. I'm glad I bought Nomadic Matt's course and it has drastically helped my blog progress in the right direction. I will write a detailed review of the course soon, so stay tuned.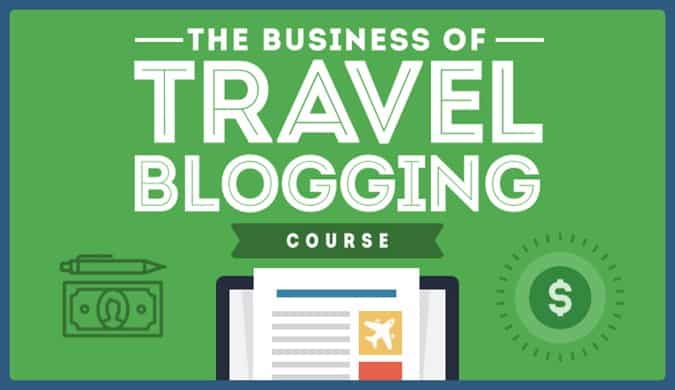 If you aren't ready to buy a course yet. Read. Read everything you can about blogging, social media, marketing strategies, business, etc… I read about all these topics every day. A good blogger knows about its business. You can find thousands of fantastic resources for free online. Here are some of my favorite resources:
Smart Blogger: Jon Morrow is a successful blogger who blogs about making money online. I read his blog daily, and subscribe to his newsletter because it's always full of helpful information. If you want to know everything about the business of blogging, head to Smart Blogger!
Louise Myers: Louise is my Pinterest guru! I learned everything I know about Pinterest from Louise's blog. She gives visual and social media tips and is a very successful blogger. She's my go-to resource for everything related to social media marketing.
The She Approach: Ana from The She Approach is a blogging growth strategist and coach. From starting a blog to monetizing and running it successfully, Ana gives tons of amazing advice to help you grow your business. Subscribe to one of her free e-courses, they are really worth it.
Take these 10 steps to start a blog and turn it into a profitable business. Making money blogging is definitely a reality, and with patience and effort, you will too succeed on this journey. I hope you found this post helpful, and are ready to live from your passion. Are you looking to start a profitable blog? Let me know in the comments below!
Did you like this post? Pin it!